I'm looking for a Hookah compressor, hoses & regulators for two divers…
Att his point in time I am not sure whether to sell or not but I do have engine with compressor and all the gear for two divers - bad news is it dates to about 1988 - good news is that it was tested once or two times maximum then never used due to a family tragedy and was put away - I was going to use it but I seem to be all good intentions. The seals in the compressor may require changing but at maximum it has had one to two hours use. I guess that at the end of the day the value might determine the decision as it is more or less new and the components could be used to other applications (engine especially).
Postscript to above - I checked with my father who is in his 90s and he said it was taken to one of our claims (I remember the particular day) and tested by Dad and brother in law for a ten minute spell only before it was packed up and taken back home and before we used them to mine gold the tragedy mentioned above took place and thus they were never taken out again.
Hi Lammerlaw i could be interested in all or less the engine 28/29 years old like you say seals will probably need replaced guessing regs serviced/recond to ? what brand is the compressor , engine , regs ? guessing the hose that's with it is the breathable stuff ?, how many meters of hose comes with it are you talking reserve air tank as well ?. Pm me a ball park figure $ if you like or post , on here I mean not in the mail

, some pics would be great !!
Cheers.
As I was the one whom posted the enquiry regards the Hookah, I would certainly follow through with purchasing, providing the equipment can be serviced to be safe to use. I'm open to all suggestions.
I am heading off gold mining tomorrow back Sunday then heading to North Island to buy a 4WD - when I come back if someone reminds me I will look out the rest of the gear and take a photo - everything is there for two people including reserve air tank, regulators and hose. As you can see the engine is new and is in as new condition as is all the other gear that goes with it.
It was all purchased in the days when we had three claims and was never used due to a family tradgedy sort of putting an end to gold mining for my father who had bought it and it sat for years in his shed untouched until I brought it into my home.
As for overhauls etc to the motor - that would certainly not be needed UNLESS the modern petrol you put in wrecked the seals of the carburetor.
I will discuss with my son whether he wants them kept or not and highest bidder takes subject to reaching what I might consider a fair value commensurate with their age and condition if he does not want me to keep them.
First up best dressed , I was behind the 8 ball 20 hrs ago vs your 5

No problem with that Pete, I need a Hookah and will await the outcome of Lammerlaw's decision when he returns. If it's for sale, then I'm ready to bid.
If someone were to privately approach me with a suggested offer then it might sway me. I have in mind what my father paid all those years ago for something he never used and do wonder replacement value today so have no idea except a figure I would let it go at taking its new condition into mind and also its age. It can all be inspected by arrangement so any prospective owner would know exactly what he/she was getting.
There was also a new gold dredge engine which I took from the shed two years ago and decided to see if it worked - when petrol was put in the carburetor seals went and my son had them replaced and other than that it was as new and now my main dredge motor. I would think that the compressor motor might need new seals in the carburetor and other than that it might be considered as new. The compressor itself will probably need a new diaphragm but I have no idea.
Looks like the motor in your pics has a reduction gearbox Lammerlaw,may not spin fast enough to drive that compressor…T80s like to run at about 1600 rpm I believe
But its all about pulley size I guess…
Nothing wrong with it - it was an excellent set up and used by the best. At the time of his death gold mining my uncle and his partner used the same system and it was the best dollars could buy. My father bought the exact same system but then it all came to an end before he/we could use it.
I have no idea but would not be surprised if the engine was specific to this type of system as my uncle took gold mining very seriously. They were into it long before any others excepting one chap so knew their gear.
Noted photo of him and one of his two partners back over 50 years ago - Taken in the 1960s.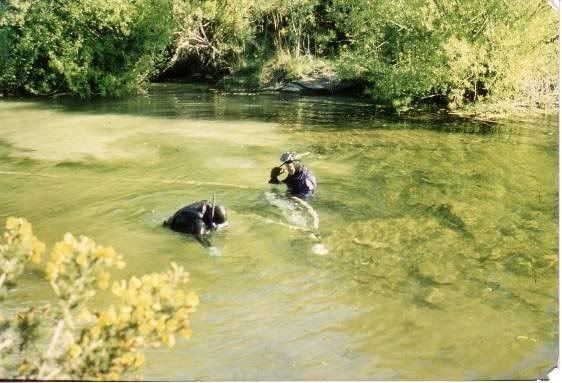 Hi Lammerlaw, hope were able to quit your Hookah. I was up in Taranaki over Christmas and was able to pick up a Honda motorised Hookah complete with hoses and demand valves. The guy worked on oil rigs and has scored a Rig Construction Foreman's job in Singapore and was getting rid of all his gear
Would have liked to buy his full face mask too, but wife said enough spent… you know the rules Lol
It is good that you got what you wanted. We checked mine out and it is as good as it was when it was first bought so son decided he wanted me to keep it in the meantime. There is a spot marginally deeper and close to a point where I got half a pound of gold in three handfuls of dirt on, I believe 9th December or 17th December 1984, and we have decided to work it - well my son and his friends have. For the first time in twenty five years I also got a new skin diving suit so in my old age one never knows - hmm I might wake up dead tomorrow and that would be the end of the story and as you know all good plans of mice and men come unstuck.
Gday Lammerlaw, I'm pleased your son wants to try his hand, for I'm sure it stirs the embers in your soul that he wants to do so. I don't know how old you are, but so long as you have a diving suit I say go for it. I'm 88 and if it's a fine day and the sun is shining I too have promised myself that I would strap on a weight belt,don a face mask and join the youngsters and revive a little of the old days. I've just had a cataract removed yesterday so with water magnification I should be able to spot any thing worth dredging. Have spent twenty years construction diving and I'm sure I have not forgotten the procedure. So my friend you just go for it and I sure you'll feel good I was going to drift down the claim on an inflatable and take a look at some of the likely places to do a pan, but I'm not allowed to for three weeks because of the eye. I think the weather will still be good to do it then. So all the best to you and your Son.
I am 66 but suffering from the effects of a misspent youth - full of accidents and broken bones and bits and pieces and also diving in winter water at 2500 foot altitude weekend after weekend with snow drifts deep - now its joint pains. I spent alot of time diving in the Waipori river in the 1980s and also in other rivers. I do like the way that you say revive the old days - yes sir I fully understand that. I bought a sheep run such as it is 29 years ago but only to ensure my own hunting and gold panning rights and currently getting ready to go there for a few days with friends - people like me never give up, never grow up - they just wake up dead one day! As for cataracts - the eye man just told me a couple of months ago that I have one developing. All the best to you as well.